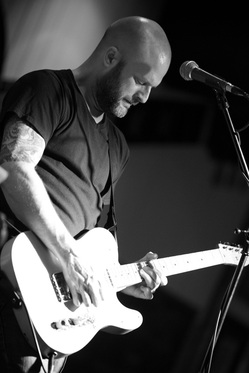 Michael Waters' eclectic approach to music produces a rock style blended with funk, country, soul, and blues. A self-proclaimed "music freak," he absorbs everything he feels to be musically organic, and then uses that inspiration to create an ever-changing vibe. A musical and vocal chameleon, Waters' ability to morph any performance to mesh with not only the style, but also the feel and energy of a room, makes him one of the most respected musicians performing today. As a professional vocalist, musician, and lyricist for 28 years, he has successfully created and maintained a unique solo musical identity, and has also partnered with other acclaimed talents, consistently striving to satisfy ever-changing and sought-after audience expectations.
Waters' strongest artistic influences have been singers, songwriters. and musical monsters Chris Cornell, Jimi Hendrix, Josh Homme, Heart, Bonnie Rait, Elton John, Stevie Wonder, Jackson Browne, The Beatles, Jeff Buckley, and Jason Isbell. This widely varied group of amazing musicians inspired Waters to play and perform on multiple instruments, including piano, drums, and, of course, the guitar: his musical weapon of choice.
As Waters evolves as an artist, so does his community awareness. In early 2015, he partnered with Lily Pad Haven, Inc., to create the music for their inaugural fundraiser. Lily Pad Haven is a non-profit organization whose purpose is to provide housing and coordinate transitional services for victims of human trafficking. Waters' hometown of Charlotte, NC, ranks in the top ten cities in the nation for human trafficking, and he is currently creating music to help raise both funds and awareness. In addition, Waters and his wife, Erin, are creating a non-profit organization that will focus on raising money to assist the needs of local animal rescues.
Throughout his career, Waters has provided original compositions and performed guitar and vocals for the advertising campaigns of ESPN, Fast Track Racing (NASCAR Official Racing Shoes), Hooters, Miller Brewing Co., and Mersur.
As Waters continues to evolve as an artist, the only thing certain is that no one can predict what is next. But anyone who knows him, knows it's not to be missed!
Contact Info
michael@mwatersmusic.com
704.281.1316
Credits
ESPN:
Wrote, performed and recorded original pieces for College Football Awards Show
Live performance for Team Welcome Dinner at The Gildan Charleston Classic
Hooters:
Performed vocals for commercial advertisements
Mersur:
Wrote and performed original pieces for exclusive resort lifestyle brand Mersur, for trade show booths in NYC and Miami
Miller Brewing Co.:
Wrote and performed guitar pieces for commercial advertisements
NASCAR Fast Track Racing Shoes:
Wrote and performed guitar pieces for commercial advertisements
Bands
Solo Artist (1994-Present)
Performs throughout the Southeast, as well as Boston, Indianapolis, NYC, and New York State.
opening slots for Scott Weiland (Stone Temple Pilots) & Firehouse
MOB - Lead Vocals & Guitar (2000-2005)
Performed throughout the Southeast
Opening Support Sets for national recording acts Billy Idol, Kings X, Cowboy Mouth, Firehouse, Ratt, and Spacehog
Control Freak - Lead Guitar & Lead Vocals (1994-2000)
East Coast Entertainment, Showtime Entertainment
Performed throughout the North and Southeast
Opening Support for Cameo, Molly Hatchet & Driving &Crying
Rezistor - Rhythm / Lead Guitar & Backing Vocals (1990-1994)
Showtime Entertainment, Dirk Peterson Management (1993-1994)
Performed throughout the Southeast
Showcased for and subsequently held meetings with the legendary Tom Dowd of Atlantic Records
WIRED - Lead Guitar, Backing Vocals & Song (1988-1990)
Performed throughout the Southeast
---